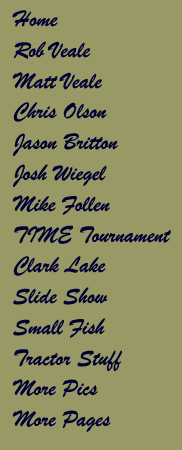 Clark Lake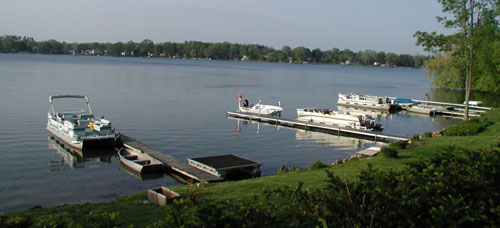 A weekend at Chris Traynor's house on Clark Lake is sure
to be filled with plenty of fishing, foosball, and beer.
---
Brennan and Alex vs. Mike and Rob
Chris and Liz's house

---
The first fishing outing of the 2004 season proved to be a success, despite the cold weather and overcast sky. A two-team tournament was agreed upon consisting of Chris and Owl vs. Jason and Rob. The point system awarded 3 points for Largemouth Bass 12 inches or bigger, 2 points for Smallmouth Bass 10 inches or bigger, 1 point for Rock Bass 8 inches or bigger, 5 points for pike 20 inches or bigger, 5 points for the biggest bass of the day, and 1 point for any other species of above average size. Rob and Jason pulled out the win outscoring Chris and Owl, 47 to 36. Highlights included Owl catching the biggest bass at 16.5 inches for 5 bonus points, Chris catching a huge Crappie, Rob landing a 21 inch Pike late in the tournament, and Jason catching the most fish and scoring the most points. Losers (Chris and Owl) had to supply beer for the remainder of the evening for the winners (Jason and Rob). This was loosely enforced, but next time will be strictly enforced. Until then, Jason and Rob hold all bragging rights.
All fish were released.
Owl landed the biggest bass of the day,
a 16.5 inch Largemouth Bass.
Chris scored one point for his team after
catching this huge Black Crappie.

---
Those super cool polarized glasses helped Rob spot this 19 inch Dogfish (Bowfin) hiding out in a weedbed.
The day after the tournament was officially completed, Jason was still determined to catch more fish. This 19 inch Smallmouth Bass was the last of many bass landed.

---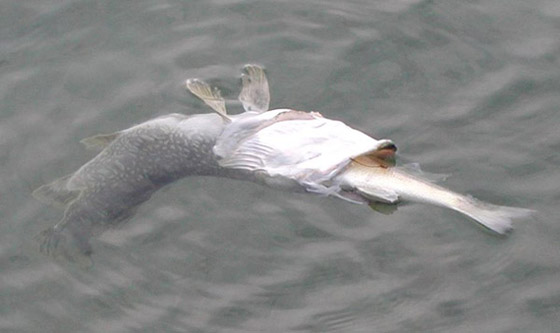 Chris found this dead pike with a big bass in its mouth near the end of his dock one morning.
I guess it tried to bite off a little more than it could chew.
---